Mel wanted every gardener, experienced or beginner, to have a great experience when growing their own food. The awesome planting charts in the back of the Square Foot Gardening books are a tremendous help. While they're simple to use, we do get a few questions about them from time to time, so we thought we'd give you this primer.
Know Your Hardiness Zone
Most people focus solely on what hardiness zone they are in. It's indeed useful to know, but your zone only helps you figure out what plants are suitable to grow in your area. You can find your zone by using this handy interactive hardiness zone finder from the USDA (United States Department of Agriculture): https://planthardiness.ars.usda.gov/PHZMWeb/. Zones are based on the average annual minimum winter temperature and the map is divided into a different zone for every 10 degrees Fahrenheit difference. It's based on data from NOAA, the National Oceanic and Atmospheric Administration. Zones are important when choosing plants from a nursery or seed catalog
Find Your Frost Dates
To use the charts in the Square Foot Gardening books, however, you'll need to know your last frost date for your spring garden and your first frost date for your fall garden. Here's another handy link, this one from the Old Farmer's Almanac: https://www.almanac.com/gardening/frostdates. Again, all you need to do is enter your zip code to find out these dates. These are average dates based on historical data, and you will want to be prepared with protective covers for your garden in case of a surprise cold snap.
In the book you'll find several pages of chart for Spring Indoor Planting, Spring Outdoor Planting, Successive Planting, etc.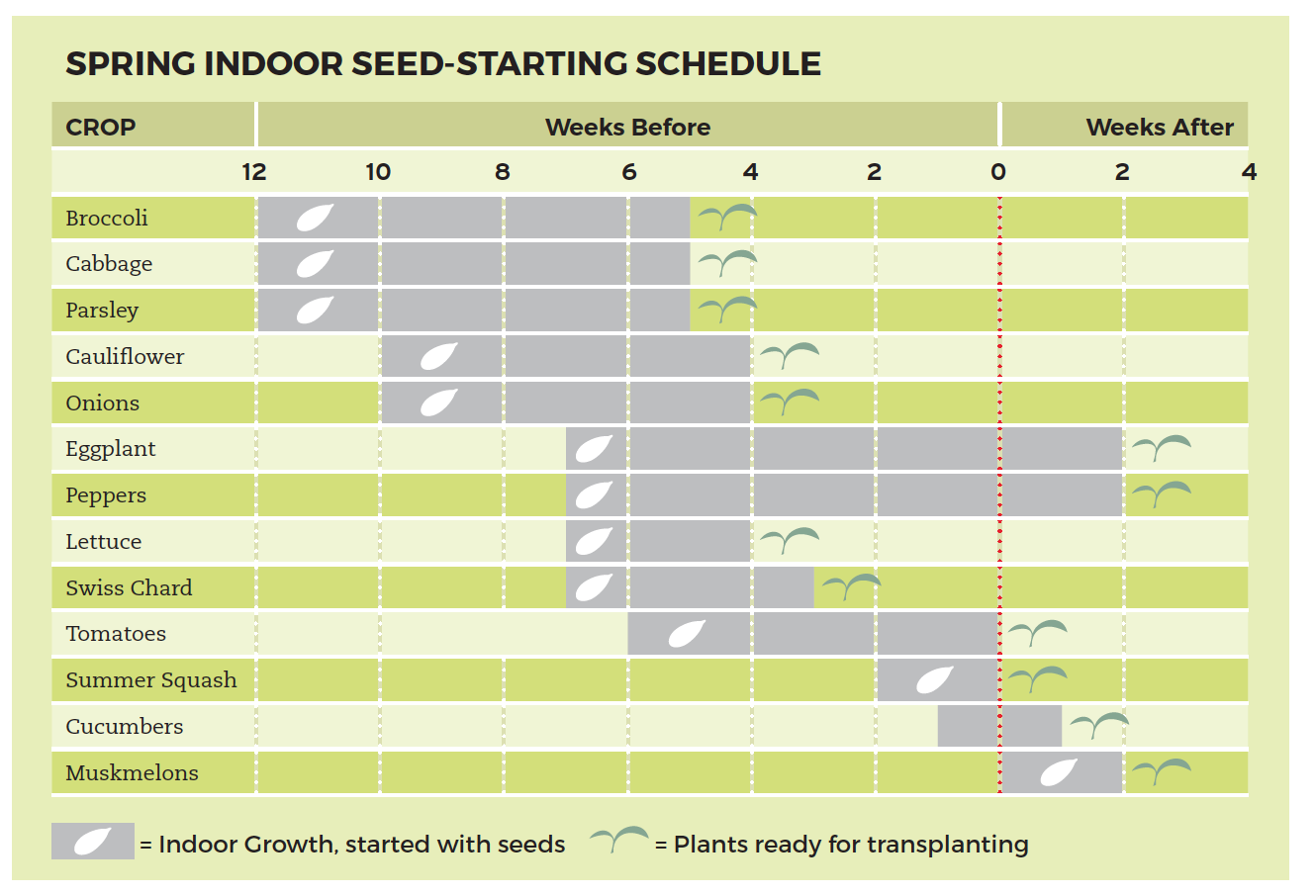 The easiest thing to do is grab a paper calendar and pencil, and on the Sunday closest to the Last Spring Frost Date write "0." The Sunday before that will be "-1". The Sunday before that will be "-2." Keep going back to -12 if you plan to start seeds indoors. Go to "0" again and then work forward. The first Sunday after "0" will be "+1," then "+2," etc. If you intend to plant a fall garden, do the same thing by writing "0" on the nearest Sunday to your First Fall Frost Date and work back and forth again.
Plan for Maximum Harvest
If you plan to minimize the footprint of your garden yet maximize your production, you'll want to calculate when your squares will be ready to harvest. This is sometimes a range of time indicated by the basket in the chart. Then you can mix a trowel of compost into that harvested square and be ready for the next season's crop. This is an advanced skill and best planned in the winter if you plan to grow by seed. However, if you have access to summer transplants, you can certainly do this now.
Consider Growing Times
Mel's charts show you approximate growing times for common vegetable varieties. You'll need to tweak these dates since they are affected by weather conditions and the variety of crops you choose. For instance, if you're planting little turnips, Japanese Baby Turnips Mikado will be ready to harvest much sooner (approximately 30 days) than if you choose a larger variety such as Purple Top Milan (ready in about 45 days). You would be able to plant both varieties outdoors according to the date on the charts.
As you can see, Square Foot Gardening is easy enough for beginning gardeners, yet challenging enough for intermediates and experts.
Want more charts? They're all in the All New Square Foot Gardening, 3rd edition book!
932