Written by Kristina Hicks-Hamblin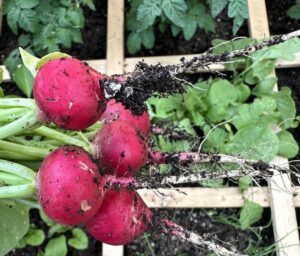 With a zing of a bite, radishes are a delight to grow in a raised bed using the Square Foot Gardening Method. They are fast growing, and almost foolproof to grow from seed – but will only produce the tender, spicy roots you're hoping for if you plant them at the right time. 
It's also important to choose the right varieties for your Square Foot Garden – and your palate! Let's learn a bit more about growing this root crop in your grids. 
It's
All About Timing
These vegetables are one of the easiest crops you can grow, which is why they are great for beginning gardeners and kids discovering the joys of growing food for the first time. 
However, this garden crop will bolt if grown during hot weather, resulting in towering flower stalks and fibrous, inedible roots instead of the tender ones you'll be expecting. 
To avoid such disappointments, this member of the mustard or cruciferous family should be sown from seed at the same time as other cool season crops like carrots, beets, kale, and bok choy. 
In many locations, radishes can be grown as a fall crop. To enjoy a fresh round of zingy roots for your salads in autumn, sow seeds four weeks before your first average frost. 
Prefer a visual aid to help you with this? Check out our fall planting chart! 
In spring, you can start sowing seeds four to six weeks before your last average frost date. If you get started gardening early enough in spring, you can even plant them in succession for a continual supply. 
Tips for Growing Raised Bed Radishes
In the Square Foot Gardening Method, small radishes are planted sixteen seeds per square. 
Why not plant them more densely? This spacing, developed by Mel Bartholomew, creator of the SFG Method, allows plenty of room for each root to grow while ensuring adequate air flow among the foliage of each plant. 
While it can be tempting to maximize your garden "real estate" and sow the cute pinkish brown seeds more densely, you won't be doing yourself any favors in the long run. When these vegetables are planted too closely, they're likely to remain underdeveloped as they struggle for room in the soil. 
Plus, overly crowded vegetable crops often lead to fungal and bacterial diseases as air flow is reduced and humidity is raised. 
Another important step to take is to make sure this crop stays well-watered, since drying out can cause these vegetables to bolt and become fibrous – pithy jokes may be fun, pithy roots, not so much! 
Most small varieties will be ready to pick in about four weeks, but always check the average days to maturity on your seed packet to make sure. 
As you harvest ripe radishes from your Square Foot Garden, add a handful of compost to your grid square before resowing a second crop to keep the Mel's Mix productive. 
Radish Varieties for Raised Beds
To utilize the recommended 16-per-foot spacing, choose small radish varieties. Here are a few favorites for this purpose: 
'Easter Egg II' Picking these veggies is as fun as hunting for easter eggs – with colorful, crispy roots that are white, pink, purple or red. Roots may be spicy or mild, adding to the surprise! Harvest in 28 days. Find seeds at

Renee's Garden

.

'French Breakfast' is a small, cylindrical French heirloom (also known as 'Petite Dejeuner'). Radishes are reddish pink with white tips and known for their invigorating flavor. Harvest in 28 days. Seeds are available from

Renee's Garden

. 

'Plum Purple' is a beautiful variety with large, two-inch wide roots encased in purple skin. Mild flavor makes them perfect for kids and those with a less adventurous palate. Count 26 days to maturity. These seeds are available to purchase at

Eden Brothers

.

 
For larger types like daikons and black varieties, reduce the number of seeds planted to just nine or even four per square depending on the space requirements of the variety. Also, be aware that many daikon varieties are quite long, so give them extra depth by using a top hat that's filled with Mel's Mix. 
And as you continue your raised bed gardening adventures, keep radishes in mind as a low maintenance, fast growing crop offering either a radical zing or mellow, mild crispiness. 
Buy your garden seeds from Renee's Garden  Seeds with code: FRT93 and 20% of the order value will be donated to The Square Foot Gardening Foundation.
Learn more about the Square Foot Gardening Method by taking the
introductory course
.